"De-vining" in East Rock Park | Protegiendo el parque de especies invasoras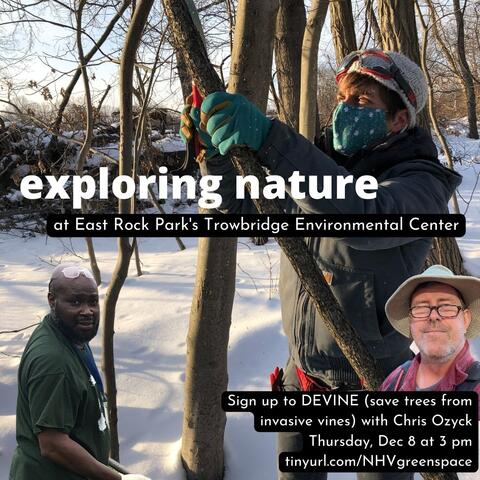 Event time
Thursday, December 22, 2022 - 3:00pm
Thursday, January 12, 2023 - 3:00pm
Thursday, January 26, 2023 - 3:00pm
Thursday, February 9, 2023 - 3:00pm
Thursday, February 23, 2023 - 3:00pm
Thursday, March 9, 2023 - 3:00pm
Thursday, March 23, 2023 - 3:00pm
Thursday, April 13, 2023 - 3:00pm
Friday, April 21, 2023 -

12:00pm

to

4:00pm
Location:
Trowbridge Environmental Center, East Rock Park
41 Cold Spring St.
New Haven
,
CT
06511
Volunteers needed to help protect the park's canopy from invasive vines.  Wear long sleeves and long pants, sturdy shoes, and bring drinking water.  We'll provide the work gloves and tools.  
Se necesitan voluntarios para ayudar a proteger el follaje del parque de plantas invasoras (enredaderas y trepadoras). Lleva ropa en capas, zapatos resistentes y agua para beber. URI proveerá de guantes y herramientas.
Las fechas y horarios de esta actividad están indicadas en la sección "Event time" y la dirección "Location".
Event category: