Tree Ambassadors
Join URI's Team of New Haven Tree Ambassadors!
 For a limited time: Identify 3 new tree adopters and we will send you this official Tree Ambassador cap!
Let us know the tree adopter names and preferred contact info via email or phone (203-432-6189).  Please let any potential adopters know that URI will plant a free street tree for any New Haven resident who requests one and is willing to water it for the first three years - if you have an available site for one of these trees in front of your New Haven home or business and/or you know someone who does, make a request here.
Why do we need a Tree Ambassador Program?
New Haven loses ~500 trees each year and has an unequal, unjust distribution of trees. Trees are important tools for mitigating climate change, advancing flood control, and reducing soil, water, and air pollution. Trees help to make our neighborhoods beautiful and more livable, and they contribute to a sense of place. Thanks to a partnership with the City of New Haven, URI plants free trees in front of homes and businesses where there are committed people willing to water them. The challenge is in letting every New Haven resident know about this opportunity.  Tree Ambassadors can help!
How does URI identify tree adopters?
Current outreach includes canvassing, hanging street banners and yard signs, and distributing flyers and bilingual tree request postcards via our partners, the public schools, local hospitals, and public events and spaces (parks, fairs, retail and grocery stores), as well as posting to URI's social media. WE CAN DO SO MUCH MORE WITH TREE AMBASSADORS TO HELP US SPREAD THE WORD. 
Can I be a Tree Ambassador?
YOU CAN! Anyone who is willing to talk about trees with New Haven friends and willing to through a brief training with URI can become a Tree Ambassador.  You don't have to use social media or be committed to knocking on doors, although that helps!  You can choose from a list of activities to help URI get the word out about free trees for New Haven. 
HOW TO TAKE ACTION
Tell your New Haven friends and neighbors to adopt a tree, personally: 
Share the news on social media. 
Include a link to our Tree Request Web Form (yalef.es/treerequest).
Start by sharing this video: https://youtu.be/bZFRHELCiyY
Use the following hashtags: #URItrees #FreeTrees4NHV #NHVtrees
Check out this document with suggestions for content to post on social media. (Shout out to Tree Ambassador Intern Adrian Huq for compiling all these tree facts!)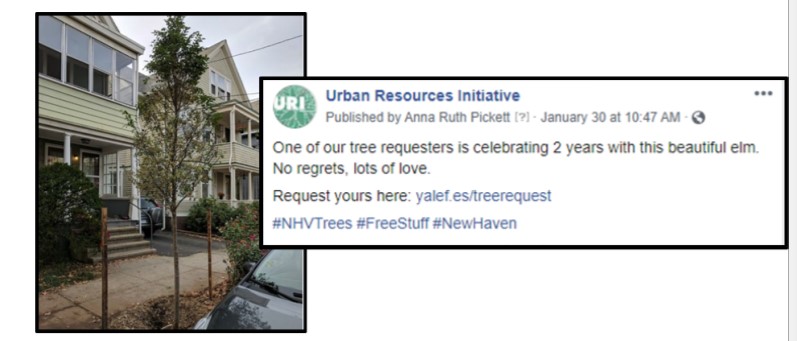 Spread the news throughout the neighborhood.
Speak at a Community Management Team meeting.
Post flyers at schools, community centers, libraries, houses of worship, and more. 
Send information to relevant listservs (workplace, social, community).
Be in touch with URI. 
Please let us know you are participating so that we can get you set up with what you need and inform you of upcoming trainings, events, and exclusive perks for identifying 5, 10 and 20 new tree adopters.
Help URI come up with other creative ideas for identifying new tree adopters!
Watch a recorded Tree Ambassador training.  
Share this video.
We are grateful to the Greater New Haven Green Fund and the CT Urban Forest Council for their generous support of this work.