Internships
URI offers paid Greenspace and GreenSkills internships for Yale students, as well as for New Haven high school students (Common Ground and Sound School) and adults with a history that includes incarceration. 
Enriched through group discussion, these urban and community forestry internships provide job training and real-world practice while making positive changes in New Haven communities.
Basic requirements are:
Ability to complete physically demanding tasks
Commitment to leadership
Team-oriented spirit
Willingness to make positive change
Yale Students
Exploring Nature Educators (Fall and Spring 2023): Applications are due by August 27.  We are seeking two reliable and energetic leaders who are passionate about working with youth to lead an exciting new program based out of East Rock Park's Trowbridge Environmental Center.  Read more here. To apply, please send your resume to anna.pickett@yale.edu.  
GreenSkills Apprentice Urban Foresters (Fall and Spring 2023): Applications are due by August 27. We are looking for Yale college and graduate student applicants who are ready to: a) contribute to local environmental restoration and climate adaptation/mitigation projects; b) invest in relationship-building with the New Haven community; and c) commit to an equity-based approach to environmental work and community development. Read more about the GreenSkills positions here. To apply, please fill out this online application form, which requests your resume and cover letter. Contact the GreenSkills Manager Miche Palmer at miche.palmer@yale.edu with any questions.
Greenspace Community Foresters (Summer):  The deadline to submit your resume to apply for the summer internship is March 3, 2024. Yale students who wish to apply, please read more here and email resumes to Associate Director, Chris Ozyck (christopher.ozyck@yale.edu).  
See last summer's interns and featured intern alumni here (see the appropriate tabs). The video below includes interviews with more intern alumni.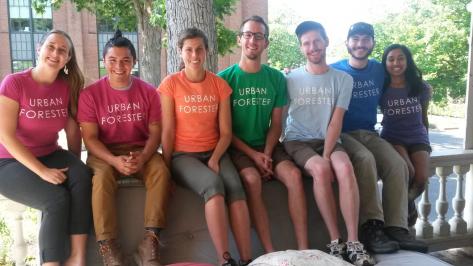 High School Students & Adults with a History that includes Incarceration
High school students and adults with a history that includes incarceration interested in applying should have an interest in collaborative efforts to address New Haven's environmental and social challenges. High school students interested in working with URI should contact Crystal Fernandez if enrolled at Common Ground or Neil Geist if enrolled at the Sound School. Individuals with a history of incarceration interested in this work should apply through EMERGE CT.  
Additional intern projects can be proposed and designed by students in cooperation with the Director. For more details, or to apply, please contact URI.
Interviews with URI Intern Alumni