Friends of Beaver Ponds Park Volunteer Workday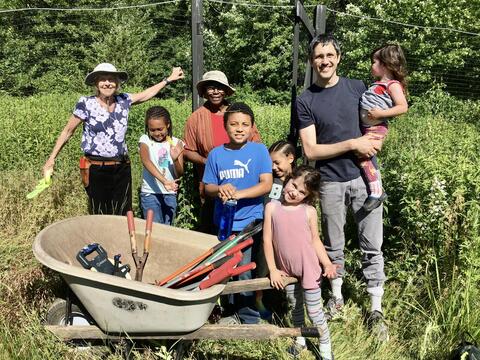 Event time
Wednesday, April 13, 2022 - 5:00pm
Wednesday, April 20, 2022 - 5:00pm
Wednesday, April 27, 2022 - 5:00pm
Wednesday, May 4, 2022 - 5:00pm
Wednesday, May 11, 2022 - 5:00pm
Wednesday, May 18, 2022 - 5:00pm
Wednesday, May 25, 2022 - 5:00pm
Location:
Beaver Ponds Park
Crescent Street & Fournier Street
New Haven
,
CT
06511
Come prepared to get dirty and have fun.  The Friends of Beaver Ponds Park invite you to come dig in the garden with them to make this park on the borders of Beaver Hills and Newhallville a place where people feel welcome to explore nature and be in community.  There is always plenty to do, removing weeds, spreading mulch, planting flowers, clearing debris, and getting to know neighbors.  
Greenspace Report from Summer 2021…
In 2021 the Friends of Beaver Ponds Park, a diverse, intergenerational group, had another successful summer restoring and stewarding the park while enjoying much conversation and laughter. The group weeded, mulched, and refreshed both the planting beds located at the entrance to the park near Fournier Street and the pondside garden further along the main pathway, while Joan Hilliard and the children expanded the children's garden. Chris Ozyck also brought some boulders and logs to establish a natural play area for the children around their garden. Finally, volunteers spent significant time this summer cutting back overgrown brush, removing vines from trees, and removing invasive species such as phragmites, Norway maples, and mugwort from the park.
Event category: