2020 Report for Hemingway Butterfly Garden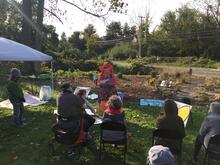 Year
2020
Number of volunteers
13
Total volunteer hours
156
Number of events
17
Number of trees planted
0
Number of shrubs planted
8
Enter more details about shrubs planted
6 Ilex G Shamrock, 1 Ninebark,
Number of perennials planted
30
Enter more details about perennials planted
Creeping Phlox, Agastache, Tickseed Coreopsis,
Yards mulch spread
4.00
Summary
This group, led by Kat Calhoun, successfully built a Monarch Waystation this past summer on the corner of Hemingway and Eastern Sts, across from Bella Vista. The butterfly garden hosts a diversity of plants and shrubs that support the full lifecycle of monarch butterflies, and provides habitat for other pollinators as well. This was the groups first year, and they have plans to start 2 more gardens in the neighborhood in coming years. Neighbors from nearby condos and from Bella Vista, and members of the local management team, all came out to help make this garden a reality.