Exploring Nature
The City of New Haven has started collaborating with the non-profit community to activate some of the park ranger stations throughout the city.  The East Rock Ranger Station (Trowbridge Environmental Center), located at the corner of Orange St. and Cold Spring St in the College Woods part of East Rock Park is the first to open its doors through these new partnerships.
Exploring Nature at East Rock Park's Trowbridge Environmental Center newly launched on Nov 5, 2022! It is led by Urban Resources Initiative (URI) in collaboration with the Friends of East Rock Park (FERP), Fair Haven Community Health Care (FHCHC) volunteers and Yale students. Exploring Nature will activate East Rock Park's Trowbridge Environmental Center three times a week: on Tuesdays and Thursdays 3-5 pm and Saturdays from 10 am-12 pm (sometimes from 10-2). It will provide youth and family programming that focuses on the development of youth of all ages and enrichment of New Haven families. The program is free and open to the public. Registration is encouraged, and walk-ins are welcome. 
Monk Youth Jazz and STEAM Collective will be activating the Trowbridge Center the other four days of the week (M, W, F and Sundays). The jazz program will launch officially on November 20.
Exploring Nature Schedule:
Join us on Tuesdays (starting Nov 8th) from 3-5 pm for the Junior Explorers Club with volunteers from Fair Haven Community Health Care.  The outdoor adventure will run from 3:30-4:30 with access to the building for bathrooms and to engage with the building's resources from 3 to 3:30 and 4:30 to 5pm. 
Thursday 3-5pm and Saturday 10am-2pm programming will vary between community service projects, hikes, environmental expert talks, etc.  The Friends of East Rock Park will host an Open House every first Saturday of the month. See the calendar of events below.  
Take the Exploring Nature survey to let us know what excites you most about Exploring Nature and to sign up to learn more or volunteer.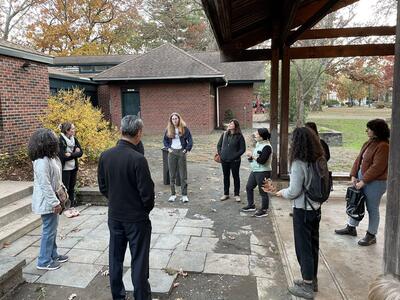 Sign up to participate in Exploring Nature for free!
Sign up to volunteer for service projects in East Rock Park and other New Haven greenspaces: tinyurl.com/NHVgreenspace
Sign up to volunteer to support Exploring Nature: https://forms.gle/WZma1EcG8wj56S2E6