Adeli DeArce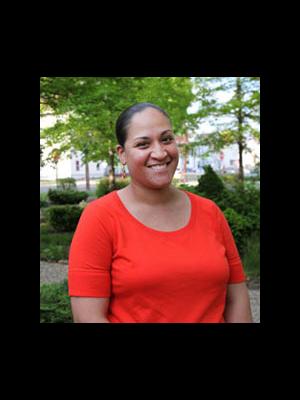 It started because of a shared problem: the drug activity and prostitution in the abandoned double lot on Saltonstall and Lloyd. Adeli DeArce lived next door at the time, and remembers having to yell at the dealers who wandered through her driveway past her playing toddler to the empty house beside hers. Eventually, the young Puerto Rican mother's activism attracted the attention of Officer Crisco, an older Italian-American policeman, and his wife. Though the neighbors had different backgrounds, their goal was the same: keep crime off the street, and turn the lots into something useful.
The solution came a few years later in 2002 when Officer Crisco applied for and received a URI Greenspace grant. The city had since purchased the land and demolished the houses, leaving a vacant lot. Adeli and her mother, Elba, helped Officer Crisco from the project's beginning. They constructed within the first summer a low-maintenance garden complete with nine trees, five rose bushes, and three benches. During the site's first few years, plantings in the lot and on surrounding streets were frequent. Adeli and Elba always came out with their neighbors to help.
"When we started the garden, it was pretty much every day," Adeli remembers. She worked hard to recruit more volunteers, especially among her family. There are pictures of her aunts, uncles and cousins getting their hands dirty: "Those were the people who couldn't say no," she says.
Adeli's family has a long history in the neighborhood. Elba was one of ten children. She moved with her family from Puerto Rico to New Haven when she was nine, her parents seeking factory jobs and the American dream. Adeli's grandfather worked two or three jobs until he could buy a house on Lloyd Street. Adeli today lives in the same house. The family eventually bought two more houses on the block.
Though Adeli spent part of her childhood in Puerto Rico, Lloyd Street was always home. This attachment has motivated her to work to improve and maintain the garden. "There's love for the little land you grew up in," she says, "It's not the best neighborhood, but because that corner was always family…that makes you own the street even more."
Adeli's roots in the neighborhood and love for the garden encouraged her to step into a more active leadership role when Officer Crisco moved out, a role she was able to adopt with ease and natural proficiency. She reached out to her neighbors and recruited across all ages. To old-timers, she knocked on doors and introduced herself as Victor Mendez's granddaughter. With schoolchildren who volunteered, she directed using her skills and background as a teacher.
Adeli can talk, assign tasks, and keep the mood light when in charge, but perhaps her greatest strength is in leading by example. She waters the trees, cuts the grass, picks up the trash. "When we started, lots of people didn't care, they said, 'young girl, you're a fool, why you want to work yourself to the bone, they're gonna rob your plants…'" The site has experienced vandalism, litter and theft. But Adeli keeps going. "And they just see us keep working, and eventually they came too," she says.
The garden holds the memories of the work that went into it and the family and friends who came there to help, sweating, enjoying themselves. Many of these family and friends have moved on or passed away. For Adeli, the garden remains a haven from the stresses of the real world, a place that brings her peace when she takes her children out to play, toting snacks and a beach umbrella, or when she gazes over the garden from her second-story window. It also conjures memories of Puerto Rico – her grandparents' property and the vibrant plants of her grandmother's garden. Sometimes, she says, she sees people go by and actually stop and stare as if to say, 'look what's here!' "Yeah, I did it," she thinks. "It makes you feel good."
In recent years the site has become an Emeritus Group, meaning attention is shifting from planting to stewardship. With fewer big planting events, Adeli and her mother have become the site's primary caretakers. Adeli's attitude towards the site has changed with its evolution and the events in her own life, but her commitment has remained strong.
"When I started, [it was a] cleaning process, an opportunity to plant. Then it became like I owned [the garden]. I went through hard things in my life, I had a year of depression when I didn't want to touch the garden, but said I'd go and do what I could… [it] saved me, it really did, it helped me get through a tough time, not to be focused on my own problems. With everything I planted, I had a different view of life."
While her care for the garden runs deep and she has no plans to abandon work soon, Adeli is anxious to recruit more help in the future. If she were to move far away, the site would have no caretaker. But she says even if she didn't live in the neighborhood, she would have to come back to visit and work. "Now I'm tied to it sentimentally," she explains. "I work on it because I like it, I sit there and reminisce. There are nice memories. That kind of sticks to you."
Read more about Adeli and Greenspace in the New Haven Independent: Greenspacer Turns Blighted Lot Into "Treasure"